There are multiple teeth cleaning kits on the market that handle dental hygiene and teeth-related problems using a bunch of tools. We noticed the recent hype and decided to do our own research to find out the truth.
Hence, we declare the Waterpik Electric Dental Oral Irrigator as the winner of this category. It is Amazon's best-selling power dental flosser for several reasons, which you will find later in this article. The second kit, the Waterpik Cordless Water Flosser, is a cordless device that is super convenient for travelling.
Then, there is the Waterpik Cordless Rechargeable Oral Irrigator that gives you the facility of personalised water pressure to set it as you want. And lastly, the DenTek Professional Oral Care Kit is an amazing package with brilliant tools to keep your mouth health in check.
This Waterpik electric flosser is your ideal oral caretaker and an instant way to floss your teeth. This tool is perfect for people who can't commit to traditional flossing.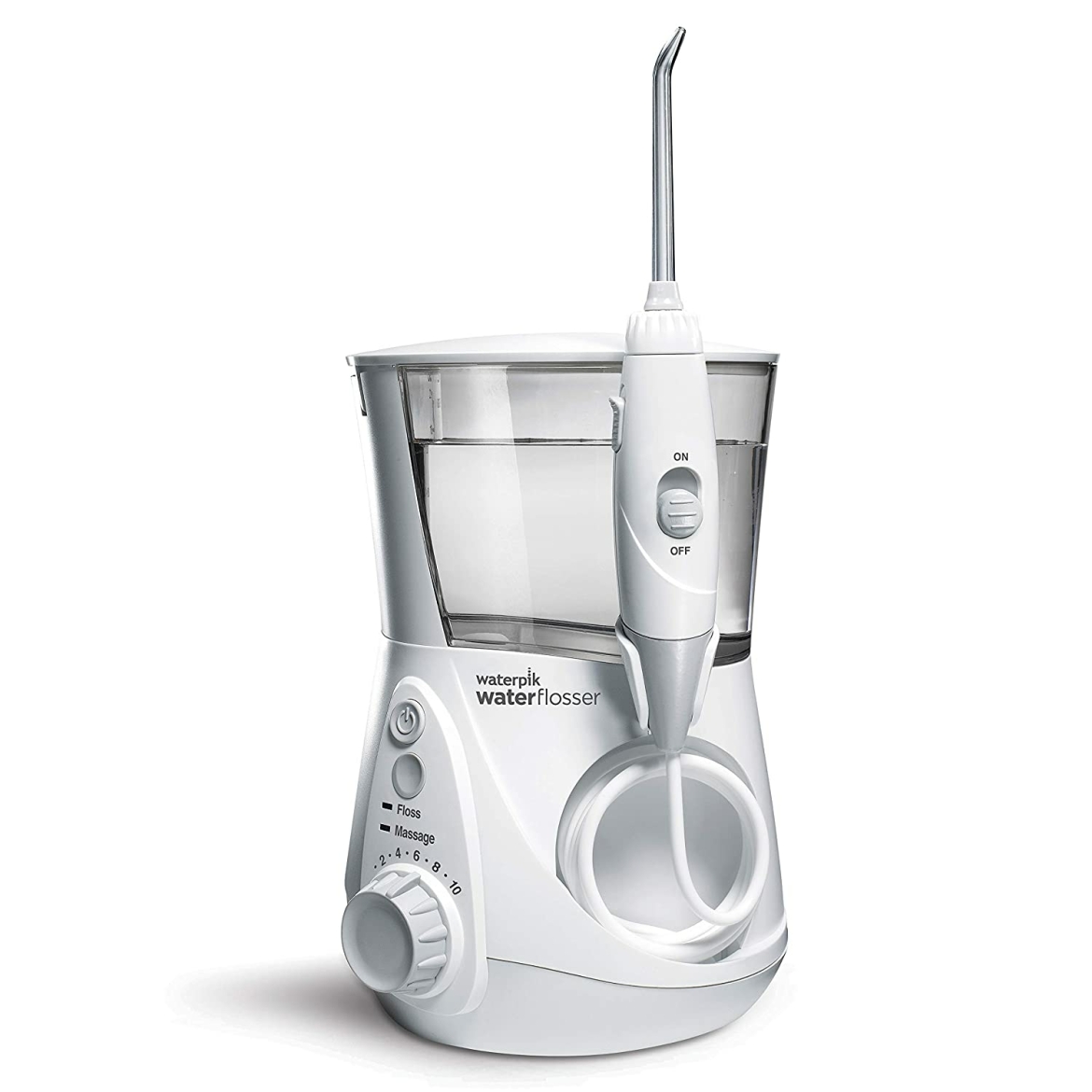 This glorious package contains:
Aquarius water flosser
Seven general use tips, including tips for dealing with implants, bridges and braces, etc
Using this tool once a day for a minute can help you get rid of annoying food particles and tartar-prone teeth. If used correctly and regularly, it can heal your inflamed and swollen gums too. With ten fabulous settings, it gives you the freedom to personalise the pressure as you like.
Pros
Versatility of attachments and settings
Optimal control
Convenient water flow
Cons
Proper brushing and regular flossing are usually enough to maintain a healthy mouth. However, sometimes food debris gets stuck between teeth and under the gumline, and brushing may not be sufficient to avoid that.
WaterPik Water Flosser is an at-home oral care set that removes food debris and plaque from teeth using high-pressure pulsating water. This toolkit includes:
A cordless flosser
3AA batteries included; no outlet required
Two jet tips
Two pressure settings
Its compact design is convenient for travelling and everyday use. All it requires is one minute a day to give you a cleaner mouth and fresh breath.
Pros
Battery operated
Comfortable hold and easy to use
Lightweight
Cons
Let this cordless, waterproof, and advanced flosser take care of your gingival health. It can combat plaque and take the stubborn particles out of your mouth from areas where a traditional toothbrush can't reach. This package comes with:
A cordless flosser
Magnetic charger
A plaque seeker tip
An orthodontic tip
Tip storage case
Travel bag and plug
Three pressure settings
Sometimes, just brushing is not adequate. Due to improper oral hygiene, bacteria can lead to tooth decay, gum issues and oral infections. Waterpik Flosser can be your dental best friend at home. Plus, it's very easy to take travelling with you!😉
Pros
Portability
Personalised water pressure facility with convenient options
Rapid charging capability
Tip rotates 360 degrees
Cons
A bit hard to manoeuvre in the mouth
This one brings an outstanding opportunity to people who want advanced treatment for deep cleaning in the comfort of their homes. In addition to cleaning, it provides a teeth whitening service too. It comes with five decent quality dental tools:
Stainless-steel pick
Daily use plastic scaler
Weekly use scaler
Dental mirror
Rubber gum stimulator
Dentek professional is an effective solution for plaque-prone teeth, cavities and bad breath. It can also treat discolouration and lighten teeth shade. The gum simulator is there to massage your gums and keep them healthy.
This easy to use application can provide great value for money and is an ideal purchase for oral care enthusiasts.
Pros
Treats staining and discolouration
Sturdy tools
Easy to use and comfortable grip
Cons
Another option is brushing your teeth with baking soda and salt. It helps loosen the layers of buildup to a degree.
Conclusion
Teeth cleaning kits give you a perfect opportunity to treat your dental problems at home with minimal expenditure. Plus, water flossers can work tremendously for people with sensitive gums.
However, always seek your dental hygienist's advice before buying these kits online. They will help you find an appliance suitable for your needs and situation.