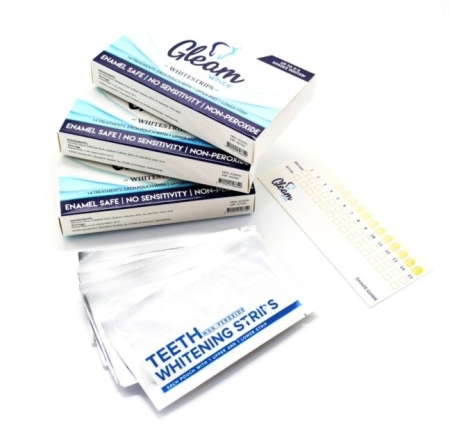 GleamWhite Whitestrips -NEW!
GleamWhite is truly enamel-safe. It avoids the use of Hydrogen Peroxide as its main active ingredient. Instead, GleamWhite uses an alternative painless active ingredient that is both gentle on enamel while remaining tough against stains. And with its new and improved 2020 formula our product is more effective now than it has ever been.
Results:
A full treatment can lift your tooth whiteness by 3 to 5 shades. The package boasts a simple yet clever shade guide, which allows our customers to see its whitening power for themselves. The results last up to 12 months; most impressive for an enamel friendly teeth whitener!
Full treatment: 14 bags / 28 strips + shade guide