Are you wondering how to improve the health of your teeth and create a beautiful, confident smile? Well, the first step to achieving this is choosing the right toothbrush. The toothbrush is, after all, the most essential tool in maintaining clean healthy teeth.
Brushing your teeth may seem like a small thing. A quick brush in the morning and before bedtime and you're done, right? Well, not exactly. If you take at least two minutes twice a day to brush your teeth carefully and thoroughly, you may be sparing yourself many more unpleasant minutes at the Dentist's clinic, besides saving money.
Now here is a simple little formula which you need to remember:
Good teeth = Good brushing!
Good brushing requires consistency and thoroughness. That is why a Dentist will always recommend using an electric toothbrush for deep cleaning.
Perhaps you already follow the rules for good dental hygiene. Nevertheless, it is not easy to achieve great results with a classic brush. It struggles to reach those 'difficult-to-get-to' areas, which results in poorly cleaned teeth, which in turn favours surface stains, resulting in the formation of plaque. This is the reason you should buy an electric toothbrush.
But which electric toothbrush is the right one for you? You could literally waste hours scouring the internet searching for a good one. And even then, the only thing you may end up with is a headache! Well, the good news is that we are here to save you time, and a headache! Yes! we have rounded up some of the best electric toothbrushes in the market right now. So, without further ado, let's begin.
Top 5 Electric toothbrush reviews 2020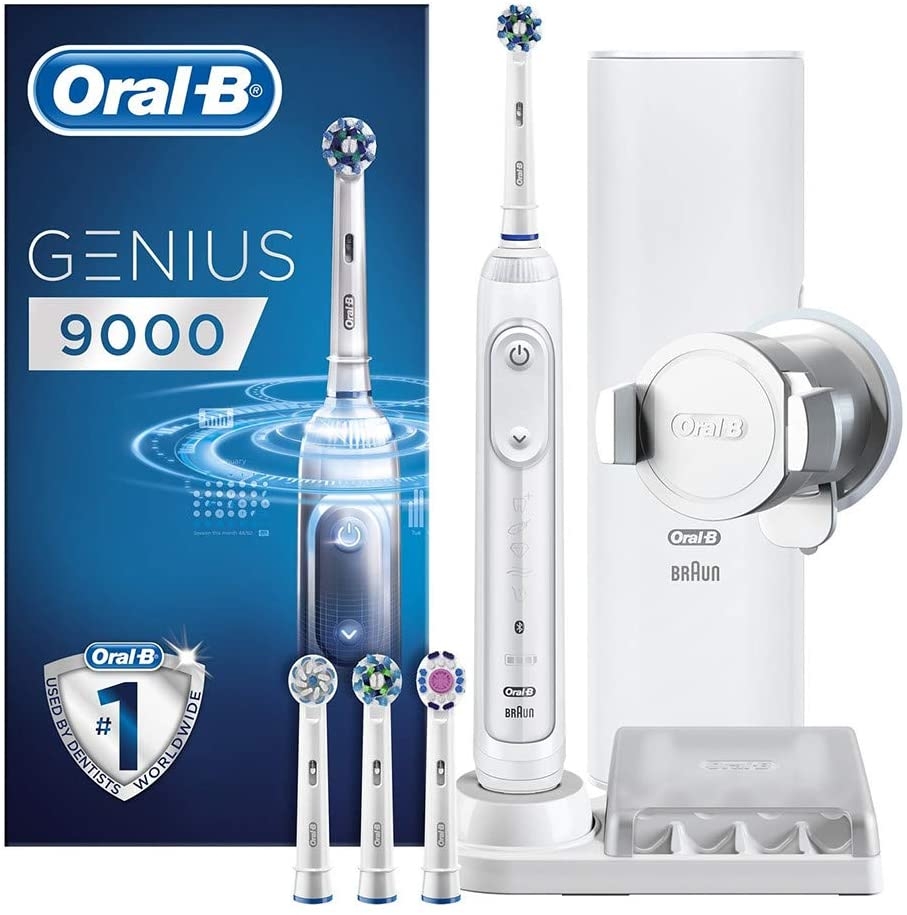 Trust me, buying the Oral-B Genius 9000 is a purchase you will never regret. This electric toothbrush boasts an excellent pedigree. It is a later model in a superb series. It is a little thinner and straighter than its predecessors, which gives it more elegance.
The circumference and the back of the handle has a non-slip glue rubber, which is pleasant to the touch.
Not only that, but the rechargeable toothbrush helps you protect your delicate gums with a proprietary smart ring and pressure control technology that reduces brushing speed and alerts you to be gentle.
It has good battery life, which can be used up to two weeks on one charge. The brush rests on its base, which acts as a charger and allows you to store four brushes.
Finally, a carrying case is offered which also acts as a charger to the provided USB cable. These features clearly rank the Oral-B Genius 9000 in an exceedingly high class.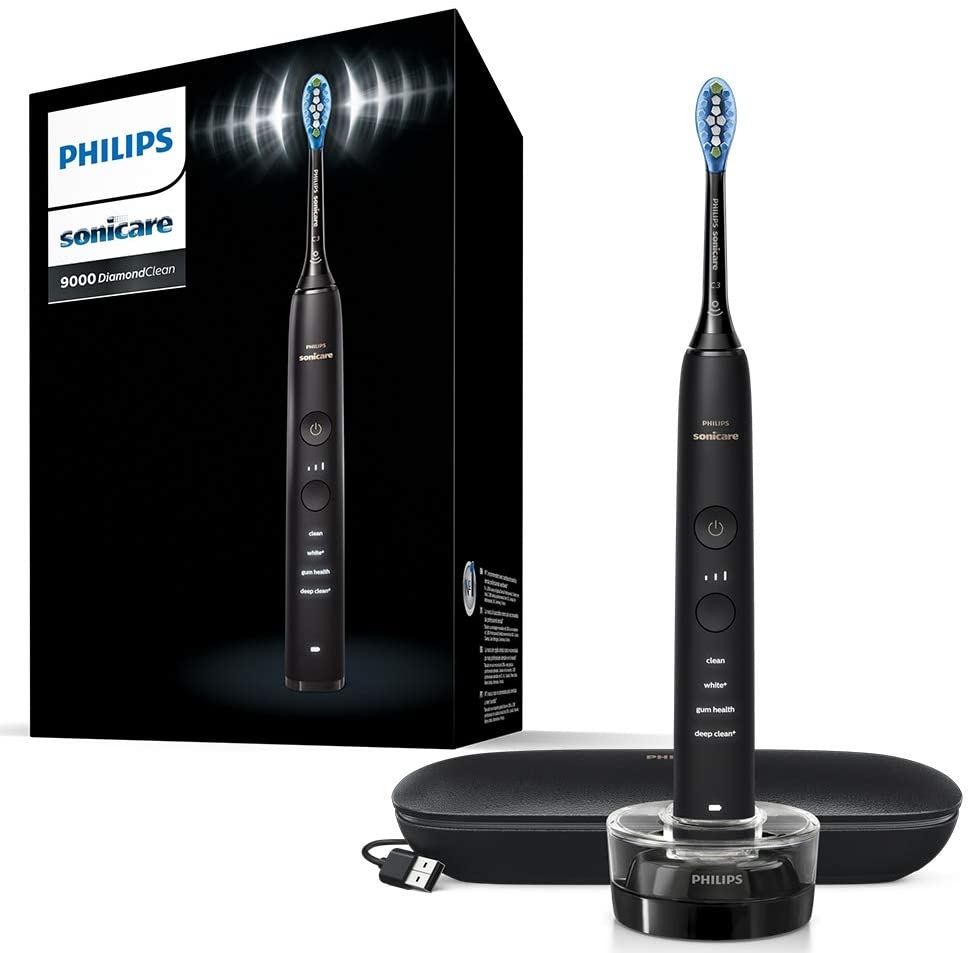 Achieve a diamond-like smile with Philips Sonicare Clean 9000. It has a great non-slip grip for easy use on travel and the smooth pink color gives the electric toothbrush a very chic look.
The advanced electric toothbrush auto-detects the type of brush head attached and gives a reminder for head replacement.
It has four modes that can be selected from deep clean to white + as per your own choice. The brush head is clinically tested to protect your delicate gums with consistent performance.
You can easily set up the Philips app with your electric toothbrush and download your personal progress report to see how much you have improved over time.
Once charged, you can use the rechargeable toothbrush for 14 weeks. It comes with a USB charging case that allows you to charge it anytime, even on the go.
It is the best electric toothbrush in terms of durability and reliability.
The Oral-B Smart Series 6000 is perfectly designed to brush our teeth as efficiently as possible.
There is a rubber surface on the back to prevent it from slipping through our hands when wet. It deeply cleanses and polishes your teeth for healthy oral hygiene.
The assembly is impeccable, the finish too, and you immediately feel that it is a very high-end electric toothbrush. There are five indicator lights on the handle.
A light for the Smart Guide indicates when the electric toothbrush is correctly connected to its case, and another light indicates your smartphone's Bluetooth connection.
You can also program alerts to remind you to brush your teeth, rinse your mouth polish and floss your teeth, or even for dentist appointments. It is, in fact, very comprehensive.
Apart from all this, you get a 30-day money-back guarantee from the manufacturer. So, what are you waiting for? Go and grab one!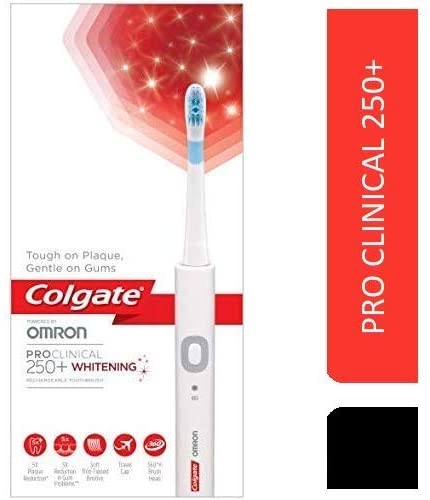 Colgate is a well-known brand in the dental care space, and its range of power toothbrushes always performs exceptionally well with excellent value.
The 250R is the successor to the 250+, and at first glance, it looks like a definite improvement. It has 30000 sonic vibration strokes per minute, which deeply cleans your teeth.
The size and weight of this rechargeable toothbrush is perfect. It feels more like a manual brush, which is a massive bonus! Its specially designed soft bristles work gently on your gums and reduce damage to soft tissues.
It removes 5 times more plaque on your gum line than a manual flat-trim toothbrush. With a 2-minute timer, it cleans even harder to reach areas.
The Colgate Rechargeable Toothbrush offers great value for money, as it is both cheap and reliable. Basically, it's just a great deal, it's an ideal companion for deep cleaning.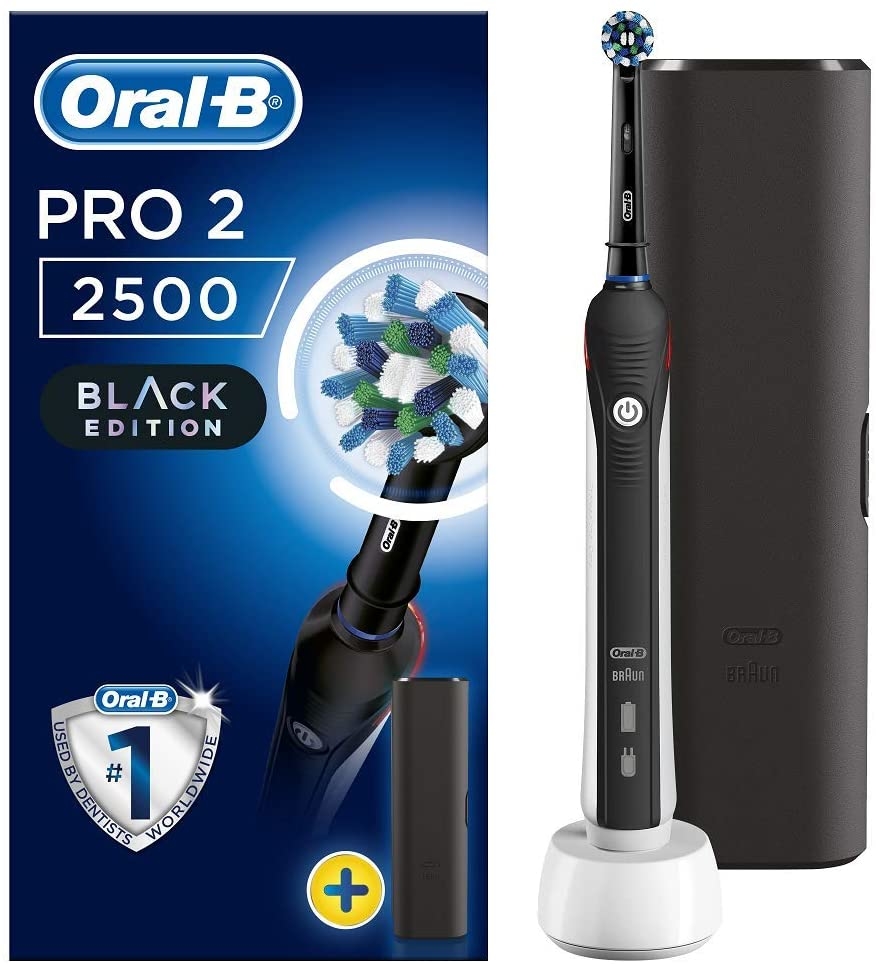 The Oral-B Pro 2 2500 electric toothbrush gradually whitens your teeth by removing surface stains and plaque.
It has a unique round brush head that oscillates, rotates, and vibrates to break and remove 100% more plaque versus a manual toothbrush.
The electric toothbrush protects your delicate gums with its advanced sensor, which alerts you when you brush too hard. You do not need to charge the toothbrush repeatedly as it has a long battery life that can be used for up to 2 weeks.
It also offers 2 brushing modes: classic daily brushing for sensitive teeth and gums, and standard for gentle. With this toothbrush, you get a cross-toothbrush head, charger with 2 pin plugs, Li-ion battery, and a standard travel case.
No wonder Oral-B is the number 1 brand recommended by dentists around the world.
Conclusion:
So here we have given you a rundown on the features and performances of the best electric toothbrushes in the market right now. Of course, on where you put your money depends upon your budget and personal choice, but ALL of these brushes are excellent, so you can't really put a tooth wrong with any of them.
However, if you still feeling a little nervous about which one to go for, we will give you our two dentists picks, which are the Philips Sonicare DiamondClean 9000 and the Oral-B Genius 9000. Both these rechargeable toothbrushes were chosen by dentists because of their excellent performance and durability.
If you have any questions about electric toothbrushes, let me know in the comments section. I would love to answer your questions.
Until then, keep smiling!